City Budget Bulletin #6: Edmonton Must Get its Competitive Edge Back
The Edmonton Chamber of Commerce is the leading voice for the businesses who provide jobs and prosperity in Edmonton. Our Municipal Budget Campaign this year has had a lot of success, but with the draft budget coming out tomorrow we need you to keep the momentum going by lending your voice to this important issue today.
Put simply, it has been an extremely difficult four years for businesses in our City. The energy downturn was a major initial cause, but rather than responding with relief for businesses, all orders of government have instead layered on taxes, fees, and new regulatory burdens.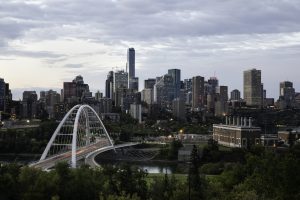 Once a city that attracted investment from around the world because of our economic advantages, Edmonton has lost its competitive edge.
The City of Edmonton recently released a report looking at taxation rates and concluded that Edmonton remains a competitive magnet for investment. We disagree. The report's main data was collected prior to January 2016, before the full effects of the economic downturn were felt and even before many of the new costs were introduced. Beyond that, this competitiveness comparison failed to analyze how competitive Edmonton is with the communities just outside our city limits and within our metropolitan region.
Only considering Alberta-wide factors prior to January 2016 entirely leaves out the many costs Edmonton businesses have had to grapple with during this prolonged economic downturn, including:
Massive minimum wage hikes
Carbon tax
Employment Standards Code changes
Labour Relations Code changes
New WCB and OHS rules
Federal tax changes
Higher CPP premiums
The City's report completely discounts the punishing effects these changes, on top of continued property tax hikes, have had on businesses in this tough economy.
Smart entrepreneurs are always questioning whether they are in the best location to thrive. The environment that government creates for business — reflected in its various tax rates and overall regulatory regime — always factors prominently.
Too often, businesses are choosing to invest just outside the City's boundaries, elsewhere in Canada, or outside of our country altogether. Edmonton needs to get its competitive edge back.
This year, the Edmonton Chamber has made a concerted effort to impress upon City Council and Administration the importance of finding ways to make it easier to succeed in these challenging times — not harder — as they work on developing the City's first four-year budget.
Above all in this budget cycle, we should be focused on holding the line on the property taxes that businesses and homeowners pay, as well as streamlining regulatory processes to help restore confidence that Edmonton is an attractive destination for job-creating investment.
Competitiveness needs to be this city's top priority. Every day we hear calls for new spending. Legitimate emerging priorities need to be funded, but we need to fund them from savings within the existing budget instead of continuing to rely on higher property taxes.
Our powerful collective voice is already having impact, but we need you to lend your voice to add momentum to this important issue.
Edmonton must get its competitive edge back. The Administration's proposed 2019–2022 Budget will be released tomorrow. Please take five minutes today to tell the Mayor and your Councillor that you want them to restore confidence in Edmonton by holding the line on property taxes.
Contact us at policy@edmontonchamber.com