City Budget Bulletin #8: Keep the Momentum Going
Last week, the City held the first day of its annual public hearings on the budget, but this time it was different than in years past, when virtually all those present were advocating for projects needing new spending. This year, the business community and other citizens were very vocal in their opposition to further tax increases, with a large number of speakers telling Council to find dollars within the existing budget for new priorities rather than rely on more tax increases.
Half of those speakers were members of the Chamber of Commerce, and we are so grateful that they were willing to take the time to prepare thoughtful comments and deliver them in the Council Chambers last Thursday (you can see highlights from their remarks excerpted below).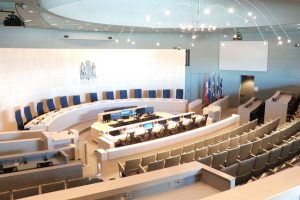 The draft 2019-2022 Operating Budget proposed tax hikes of over 10%. That's unacceptable. Businesses can't afford to pay more, nor should they – we've highlighted in previous Bulletins how much spending and staff levels have surpassed Edmonton's growth in the last decade. We have had considerable success with bringing the Mayor and Council's attention to the need for fiscal restraint at this critical juncture, but we need to keep up the momentum.
There are still a number of opportunities for the Mayor and City Council to reduce spending and thereby reduce or eliminate the proposed property tax hikes for Edmonton homes and businesses. The Edmonton Chamber strongly encourages the City of Edmonton to fund new priorities through savings, not taxes. Our message is much more powerful if business leaders, like you, lend your own voices and personal stories to ours.
Please take a moment today to send your message to the Mayor and Council using this portal from our partners at Prosperity Edmonton. Sharing your story – like Chamber members did in these quotes below – is so important at this critical juncture for Edmonton's competitiveness.
"I'm here today primarily because I'm concerned about the competitiveness of Edmonton, not only for the sake of my customers, but because I love this city…" -Chad Mielke, Peace Power
Here is what Chamber Members told City Council at last week's Budget Hearing:
"Revenues have dropped, but making that much worse are the significant costs being added by all governments…So how do I cope with these pressures? I find every way I can to cut costs without compromising quality. My staff numbers are down from 32 to 25 since 2015. And I've had to work hard in many other ways to do more with less. So when the City – after many years of huge tax increases through the boom years – keeps piling on with tax increases through the recession, instead of finding ways to do more with less, it gets frustrating."
– Patrick Saurette, The Marc Restaurant
"I'm here today primarily because I'm concerned about the competitiveness of Edmonton, not only for the sake of my customers, but because I love this city. I'm very active in the business and entrepreneurial community and I'm here representing the younger generation of business that cares about the economic environment of our future. For too long we've talked about Edmonton as being a wonderful and competitive place to do business, as if it was a given. That may have been the case in the past, but it's not anymore. The writing is already on the wall and changes need to be made if we want to swing the pendulum back the other way."
– Chad Mielke, Peace Power
"My Mom and Dad have been part owners of the Hotel since it was built in 2000. Now they are in their mid 70s, when most people are well into their retirement…instead my parents are injecting cash into the Hotel and doing all kinds of maintenance and labour themselves to reduce labour costs. But because our business, like so many others, has been driven to the breaking point by all levels of government adding costs and taxes in recent years while revenues have tanked – they have no choice. We have no choice."
– Karen Naylor, Super 8 by Wyndham, Edmonton South
"I am here today because I am gravely concerned with the proposed tax increase of more than 10% over the next 4 years. This is simply unacceptable…The City has a chance here to show businesses in Edmonton that their city government is going to do what it takes to make things a little better for them, not worse: by making tough decisions, by making better efficiencies within their own operations, and by being 'entrepreneurial' in their thought processes. The taxpayer should not be viewed as an endless supply of revenue for the City – but rather as a customer base that deserves value and efficiency from those whom they elect."
– Dawn Harsch, Exquisicare and Care at Home
"Entrepreneurs are the lifeblood of our economy, and this trend is not good for encouraging people to want to start a business. I really feel like Edmonton, and Alberta as a whole, used to have an amazing reputation for being the place to invest and set up shop – but that we have lost our competitive edge.
We really need you – the Councillors – to understand that while there are investments we should make to improve our great city even more, if the costs of doing business get too high it is counterproductive and everyone suffers."
– Dr. Jenelle Trenchuk-Saik, Parker, Ford & Mackay Specialty Opticians
"I suggest respectfully that we are at a critical moment where some very tough decisions must be made in order to change the prevailing sentiment amongst businesses in Edmonton. I don't think that simply holding property tax increases to some calculated rate of inflation is sufficient, nor is it an achievement to celebrate. The expression "too little, too late" comes to mind. To reignite enthusiasm in Edmonton and get entrepreneurs excited about investing here, I urge you to adopt the policy that property taxes will simply not increase in Edmonton for the next several years, and then get to work on getting staff costs under control, finding the efficiencies and eliminating the waste and duplication that must exist in an organization as large as the City of Edmonton, and on cutting spending on unnecessary non-front-line budget items. Imagine the buzz that an approach like that would generate not only in the city, but well beyond its boundaries."
– Norm Hansen, Thermex Metal Treating, Ltd.
"Since 2015, business confidence in Alberta has been shaken. All Albertans have been hit hard, including Edmonton-based businesses, in part because property taxes just keep going up…businesses I work with are wondering why Council cannot take more of a business approach to annual reviews and planning, where zero based budgeting is the norm. Many business leaders wish for a more transparent relationship with City Hall with respect to planning and goal setting. They think both groups could learn a great deal from that kind of respectful collaboration.  I hope you do too so we can get Edmonton's competitive edge back while delivering good government."
– Patrick La Forge, GetintheLoop
Contact us at policy@edmontonchamber.com