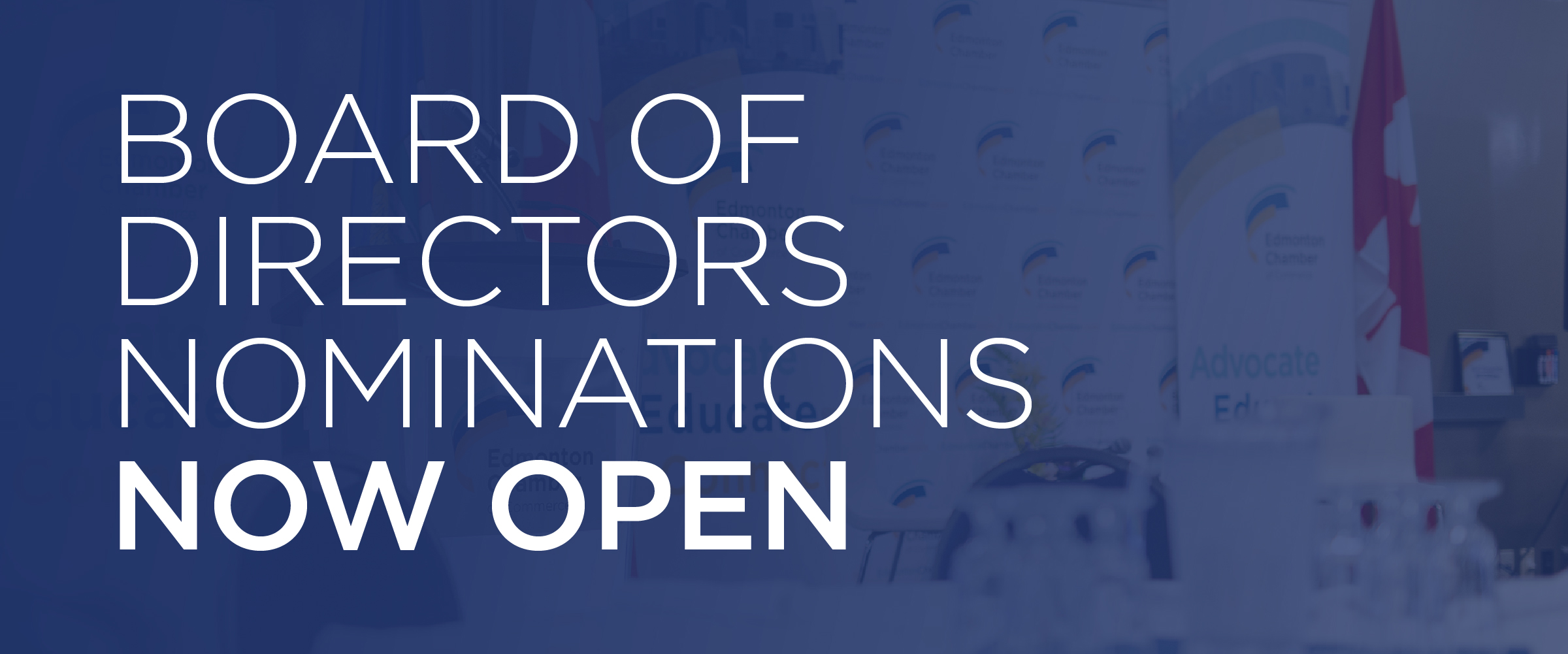 Nominate a Candidate for the 2024 Board of Directors
The nomination process for the Edmonton Chamber of Commerce's 2024 Board of Directors is now underway. The Governance and Nominating Committee has identified two vacancies – in either a large business (51+ employees) or a medium business (11 to 50 employees) and are now accepting nominations.
We strive to have a diverse and inclusive Board of Directors governing our organization, so each year the Board reviews the Chamber's matrix of skills and experience and ensures the Board includes a balanced representation of small, medium and large-sized businesses, and a diversity of sectors represented at the table.
As a Chamber Member, you are invited to submit a nomination for the Board vacancies to the Chamber offices; nominations will be accepted until December 8, 2023. Each submission requires that at least five members in good standing support the nomination.
If an election is required, the Governance and Nominating Committee will then send out ballots to the membership. The ballot, containing biographical information on each candidate, will be provided electronically, and can be submitted online or by mail to the Chamber office, provided it is received no later than December 15, 2023.
Eligibility Criteria 
Edmonton Chamber member for a minimum of two years and in good standing
Business owner or senior representative of a business located in the Edmonton Metropolitan Region
Experience in the preferred industry/sectors identified below
Volunteer involvement with the Edmonton Chamber or another Chamber of Commerce, Board of Trade or business organization
High ethical standards and integrity
Nominated by five Chamber members in good standing
Preferred Industry/Sector Experience 
Responsibilities of the Board
Together with other members of the Board, acting as a whole and speaking with one voice, the Board of Directors is responsible for the stewardship of the Edmonton Chamber of Commerce and oversight of the management of the organization. This Board is accountable to the membership and to those that provide funds for the operation of the organization. They are also responsible for determining the vision, mission and strategic direction and for monitoring organizational performance of the President & CEO.
As a volunteer member of our Board of Directors, you would attend four quarterly board meetings, an annual Board Retreat and participate as a member on a standing Board Committee. There is also various opportunities provided through our hosted Events to engage and connect with our membership and business community.
Minimum Role Requirements
Every board member must demonstrate the following qualities: an interest in the Chamber's goals; a willingness to expand knowledge of board responsibilities through orientation and ongoing education, and a willingness to represent the Chamber in the community.
Nominating a Candidate 
Would you like to nominate a candidate for the Board of Directors? Or do you consider yourself to be a suitable candidate for the Board of Directors?  
If you or someone you know is looking to be part of one of the most influential business organizations in Canada, I encourage you to print the 2024 Nomination Form and submit the completed nomination by email to Karin Teubert at kteubert@edmontonchamber.com or by standard mail:
Governance and Nominating Committee, Edmonton Chamber of Commerce
#600, 9990 Jasper Avenue, World Trade Centre Edmonton
Edmonton, Alberta T5J 1P7