Indigenous Box Inc.
Submitted by Mallory Yawnghwe, Co-founder and CEO
What's your story?
My partner and I founded Indigenous Box from our Southside Edmonton basement in March 2021 after winning $5000 from a pitch contest put on by New Relationship Trust.
I've always loved discovering new Indigenous businesses to support and I love subscription boxes. I realized that there wasn't a box on the market that was made by Indigenous people, with us in mind, but for anyone to enjoy. I wanted to create something that would help Canadians discover and appreciate the diversity of Indigenous business in Canada. But mostly, I wanted to make a box that Indigenous folks could open and feel like VIP's, because they are.
Indigenous entrepreneurs and makers are doing so many incredible things, and we wanted everyone to know that. Non-Indigenous Canadians are learning about the trauma and injustices that Indigenous Peoples in Canada are dealing with, and that's essential. But there is so much more to the story that needs to be told. We wanted to tell everyone about all of the strength, beauty, and ingenuity that exemplifies Indigenous Peoples. Indigenous Peoples are Canada's youngest and fastest-growing population segment and are starting businesses at 9x the national average. And we are doing business in all sorts of ways, and accessing all of the tools of modern commerce, just like everyone else. We are the architects of this continent's original supply chain, so entrepreneurship is in our blood. And we are starting to reclaim that space for ourselves.
We started telling that story when we launched our service in March of 2021. As it turns out, it was a message that resonated with A LOT of people. Initially we made 100 boxes and we were worried they might not sell. But when they sold out in 4 days we flipped our profits and restocked with double the amount. Those sold out in 24 hours. Suddenly this was very real and very viable.
We realized that there was an opportunity to create new sales channels and customers for Indigenous businesses. We started marketing our boxes as client, employee, and stakeholder gifts. We wanted to build bridges between grassroots Indigenous business and these larger markets.
Fast forward nearly 2 years and Indigenous Box has shipped over 35,000 gift boxes across North America from our YEG Edmonton International Airport fulfillment centre, achieving nearly $2.5 million in sales. Our client list includes everyone from small local businesses to Canadian Universities, all levels of government, national and international non-profit's, to multinational corporations. Our gift service is trusted by over 400 companies and organizations. And we are just getting started!
What do you enjoy most about being a member of the Edmonton Chamber of Commerce?
The many opportunities to connect and network with other businesses in the Edmonton area are fantastic. We've been able to meet so many like-minded entrepreneurs, find service providers to help our business, and even grow our client list.
What is one thing people are surprised to learn about your business?
That we've grown so rapidly in such a short period of time with such a modest initial investment. The truth is, we have an incredible community of supporters that make our success possible.
Who is your ideal client?
Our ideal client is looking for ways to engage with Indigenous businesses and communities and cares about reconciliation, especially economic reconciliation. Many organizations are beginning to understand how important this kind of engagement is. Businesses understand how important relationships are and gift-giving is an important way to build and maintain those relationships.  We make it easy for organizations to give beautiful, unique, and deeply-meaningful gifts that show their values and commitments while making a real impact. When you support our business, you are supporting so many other businesses through an economic ripple-effect.
What has been your biggest challenge in business, and how did you overcome it?
Because we've grown so fast, we've had to learn an incredible amount in a short period of time. Our business is very operations, logistics and supply chain heavy so there are no shortage of challenges or opportunities to improve efficiency. Early on, we decided to take a playful, problem-solving approach. We imagined that our business was a school project and that we were trying to get a really good mark. When something goes wrong we imagine the teacher saying "OK,  now that things are going well what if 'x' happened? How would you handle it?" This approach has helped to keep us in a positive and forward-thinking mindset. I also have to point out that there have been so many people who have offered their help and advice along the way. We haven't done this alone.
What is your favorite thing to do in Edmonton?
Our family loves to spend time outdoors in any of the city's beautiful green spaces and also at attractions like the Muttart Conservatory, Royal Alberta Museum, and Fort Edmonton Park. Our very favorite thing is sampling any of the incredible variety of local and international cuisines that are available throughout the city.
If you could make one substantial improvement to Edmonton's business environment, what would it be?
We are excited to see more and more Indigenous participation in commerce in Edmonton and beyond. Indigenous people have so much to offer and we belong in this space as much as anyone.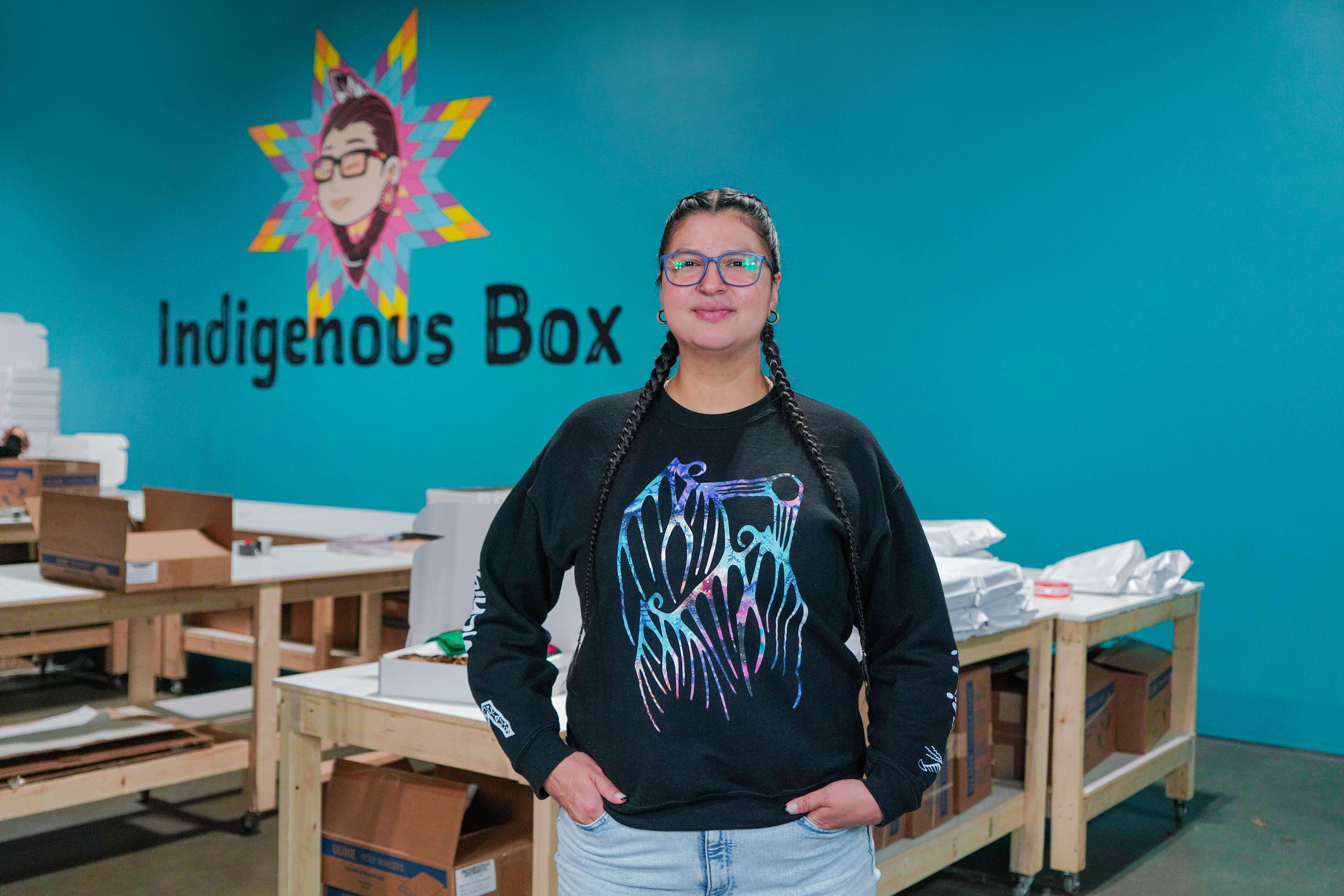 Facebook: @indigenousbox
Instagram: @indigenousbox
TikTok: @indigenousboxinc
Twitter:  @IndigenousBox
LinkedIn: Indigenous Box Inc.
Edmonton has a unique business community and we want to highlight hardworking Edmontonians who have a story to tell. Each month, we feature a member or two in the Business In Edmonton Magazine and take an opportunity to share their story and find out why they enjoy doing what they do. Follow along each month as we feature members while helping amplify their stories on our website and social media platforms.
If you are interested in this opportunity to be highlighted as a Chamber Member, please contact our Member Services team at membership@edmontonchamber.com