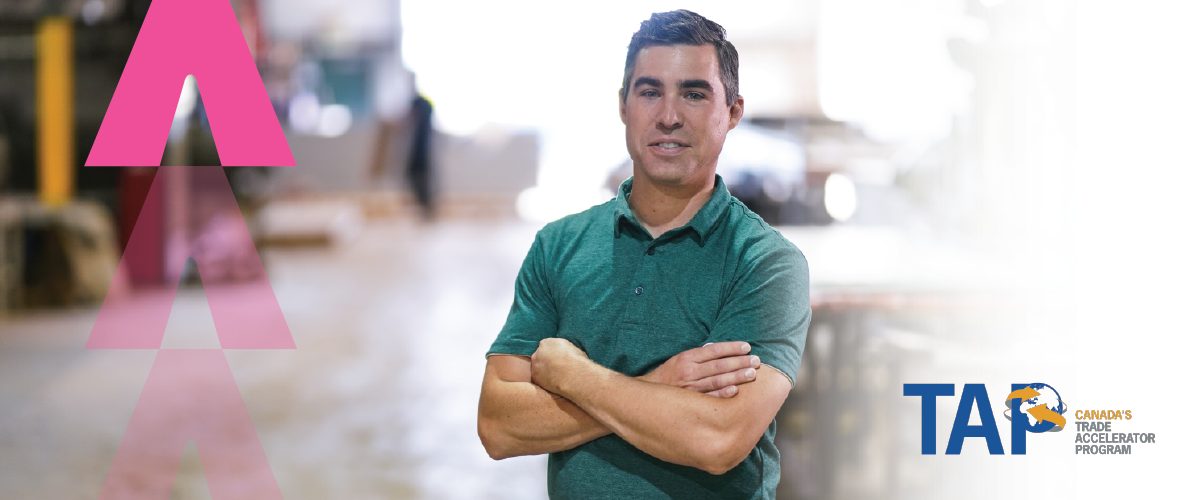 Earlier this month, we caught up with former Trade Accelerator Program (TAP) graduate, Curtis Hrdlicka from Enerpan Building Systems. After completing the TAP Edmonton cohort in Fall 2019, Curtis and his business partners had not only created a personalized Export Business Plan for their expansion into the Western United States but had also defined and enhanced their value proposition and core values.
Read their TAP journey and how learnings from TAP allowed Enerpan to pivot, adjust, and survive the COVID-19 pandemic.
Tell us about Enerpan
Curtis Hrdlicka:
Enerpan is a Leduc-based firm specializing in design, engineering, manufacturing, and supply of specialty panels for various construction industries. Products such as our Structural Insulated Metal Panels (SIM Panels) are used for construction and retrofit of buildings and building envelopes. Ultimately, we help our customers close pain points in the construction process by focusing on proper material selection, and factory-controlled component manufacturing.
In 2016, we stepped into the organization originally as consultants. For 30 years, Enerpan's success had been driven by consistent oilfield work. So, when Oil Markets first crashed in 2014, the business was impacted greatly. After evaluating and assessing Enerpan's clients and the market, we ended up purchasing the business, moved the operations to Leduc, and executed on our plan for turning the business around.
We quickly switched gears and placed our focus on finding customers who needed the solutions that we produced. We expanded our focus beyond the reliance on Western Canadian sales, and focused our efforts on finding businesses in the United States that we could help. This process not only saved our business, it made our business!
What made you decide to enroll in the Trade Accelerator Program (TAP)?
Curtis Hrdlicka:
While building and expanding our business south of the border, the Trade Commissioner Service had mentioned that we would be a perfect candidate for TAP. Stating that while we had already started the process of exporting, TAP would help enhance this process and lead to superior execution internationally.
At this point, the majority of Enerpan's sales to the U.S. were building kits for Light Industrial construction markets, so we wanted to continue to grow this market segment, in regions that we felt had not received our style of optimization yet. Therefore, TAP seemed like the perfect opportunity to enhance this process!
What was your experience like during the program?
Curtis Hrdlicka:
The program was a very busy time – I would compare it to a post-secondary course. In operating a business and maintaining a work-life balance, carving out the time to participate in the course was difficult. However, we were told by the TAP team that the more time and effort we put into the program, the more we would get out. And this is 100% true!
As we constructed the fundamental building blocks of our business plan, the experts and mentors would provide their feedback – this was invaluable for our business. By taking the time to evaluate who our customers really are and developing Enerpan's core values, we were also able to improve and expand our customer reach in markets where Enerpan was already established. This is what saved our business when the pandemic hit.
How did TAP support your business during this COVID-19 era?
Curtis Hrdlicka:
The connections we made with the experts and mentors through TAP were the reason we were able to pivot our business and survive. The program gave us a strong understanding of who our customers are and what we can provide them – ultimately, defining and enhancing our value proposition.
When March 2020 came, and our core business slowed to zero, we were able to use this understanding to find customers locally that needed our refined value proposition to pivot their business. By working with them, and helping find solutions to their problems, we were able to keep producing products through the first wave.
What type of connections did you make throughout the program?
Curtis Hrdlicka:
The business background and export knowledge of the mentors and John Gerum, Program Manager of TAP, were highly valuable. With their support, we gained an understanding of where our business could go and the path to get there. The mentors and our assigned advisor have a strong understanding of the overall balance of the whole system. While exporting is the goal, they ensure you have a clear understanding of all business fundamentals.
Plus, we were able to develop great relationships with fellow TAP classmates. This shared experience and investment in the program allowed for others to learn and appreciate your business and come away with something positive, and vice versa. A businessperson can help you, regardless of your business because their way of thinking is focused on problem solving. These relationships are so important to have.
How has TAP impacted your business?
Curtis Hrdlicka:
TAP really provides a balance of understanding both your business, and the whole export system; this is exactly what TAP did for Enerpan. The overall understanding of our business, our customers, and how to accurately find them and help them – that was the power of the Trade Accelerator Program.
What do you think is the top benefit of TAP?
Curtis Hrdlicka:
The benefits of TAP are not 100% to get you to export. Instead, the program makes you understand the process of exporting so you can determine whether your business is ready to export or not. Fortunately, we were market-ready but there was still so much value the program provided us. Not only did it refine our value proposition and what our product really is, but the program also identified our ideal customer. All these components led our business to define our market and reach our sales.
What would you say to an organization that is unsure if they should enroll in the program?
Curtis Hrdlicka:
TAP is so much more than just a program that prepares you to export. By going through the exercises and engaging with the experts and mentors, you can identify what you need when you are ready to export. Any business that thinks they are on target to export or believes that exporting is where they want to be in the future, TAP is the program for you.
When we first were contemplating enrolling in the program, I talked with John Gerum. He mentioned that the program was not going to be a walk in the park, but you get in what you put in. For Enerpan, the dedication and hard work we put into the program has paid off multiple times over again. Because of what we learned, we were able to keep our staff working, and provide stability to their families, during one of the most unprecedented times in history. Our work, in turn, allowed our customers to keep their staff working. Hopefully, we can continue to do this until the pandemic is a memory.
Trade Accelerator Program (TAP)
If you have any questions regarding TAP or the application process, please contact John Gerum, Trade Accelerator Program Manager, at jgerum@edmontonchamber.com or 780.409.2128.