Familiarize Yourself With Your Member Account
After logging in, you can access your Member Information Center (MIC) where you can update your company information, pay bills online, and highlight the latest happenings in your company.
Keep Your Member Profile Up-to-Date
Your member profile is listed in the business directory which connects your business to other organizations who require your products or services. Enhance your member profile by:
Completing the "About" section
Add your social media accounts
Include your company logo
Pin your address to Google maps
Add your website
Include your key information
Add keywords
Simply login to your member account to start updating your profile. For additional support, you can also view the online tutorial.
Save Money with Member Rewards
Share a Promotion or Deal
As a member you have tools to offer coupons and special deals to the public and fellow members. Whether it's discount, complimentary initial service, or bogo promo–the choice is yours.
You are busy hosting webinars, fundraisers, open houses, and so much more – and we want to help promote your efforts. Through your MIC portal, you can add your upcoming events to our community events calendar.
Create connections and expand your network by attending our advocacy and networking events to hear from local, national and international leaders. Or, build your skills by attending one of our education events.
You can see our upcoming events here.
Showcase your brand in front of some of Edmonton's biggest decision makers by sponsoring a Chamber event. With unique and tailored opportunities available, contact awatt@edmontonchamber.com to get started.
Subscribe to Member Pulse
Don't miss out on upcoming events, updates from the Chamber and news from the Edmonton business community by subscribing to our Member Pulse newsletter. Subscription is exclusive to members - sign up by sending an email to membership@edmontonchamber.com
Take advantage of targeted advertising to other members and the Edmonton business community with discounted digital advertising on the Edmonton Chamber website, newsletters, and Member Information Center.
As the subject matter expert in your industry, select a topic and write a blog for us to share with our audience via our Member Blog. Before you start writing, reference our blog submission guide.
Or take it one step further and apply to speak at an event. Your business can also become an Event Host to share your space, food, and refreshments – just another way to expand your reach. (Note: an application does not guarantee speaking or hosting)
Submit your company profile for an opportunity to be featured in Business in Edmonton Magazine! If you're interested, contact our membership team for more details. (Note: an application does not guarantee feature)
Find candidates for job openings. Post your current opening(s) on our Member Job Board for added exposure to our website visitors.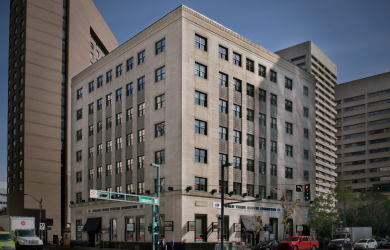 Take Advantage of Discounted Bookings
at the World Trade Centre Edmonton
As a member, you receive discounted room bookings, meeting rooms and conference space for up to 120 guests in a conveniently located historic building.
Don't be a stranger. If you ever need assistance with your membership, reach out to us.