3 common types of windows
Replacing windows is one of the most cost-effective improvements and can offer savings to your business (plus add a high return on your investment). Not only does window replacements lower your energy costs, it can also act as noise-reduction if your office is in a busy location. But with so many window options on the market, how do you choose?
Regardless on the type of window you choose, you must make sure that you are purchasing ENERGY STAR certified windows from window companies in Edmonton that are rated for your climate zone. This will ensure your new windows have been screened and meet or exceed energy efficiency standards for your specific zone.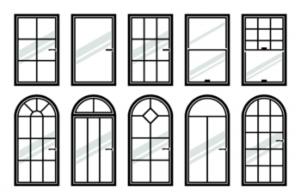 Here is some information on three common types of windows:
Casement and Awning Windows
Casement and awning windows are windows that are attached to the frame on one side and are operated using a crank. Casement windows open on one side and awning windows are typically attached at the top of the window frame, opening from the bottom. Both types open to the outside.
These windows offer the best energy efficiency. This is because the cranking method allows for a compression seal, keeping them air tight. They also offer a clean and unobstructed view, unlike windows with framing across the glass, and are good for bedroom and kitchen windows. Since the open pane helps catch the breeze outside, they are also good for ventilation.
What are the cons? Unlike slider windows that can be removed from the frame, casement and awning windows can only be cleaned from the outside. If you have them on the second story, this could make cleaning difficult. Because they open towards the outside, they can be hazardous if opening onto a deck or patio.
Sliding Windows
Sliding windows are windows that slide open and close within the window frame. Single sliders only allow one side of the window to open where double sliders can open at both sides. Though most sliders open from side to side, you can get sliding windows that open from top to bottom or vise versa.
Sliders are a good idea for wide windows that might be too large of an opening for a casement window. They offer good view and ventilation and since you can remove the windows from the frame, they make cleaning both sides of the window much easier. Learn how to clean windows.
Single and Double Hung Windows
Hung windows are also a popular choice for homeowners. In these windows, there is typically a sash in the window that remains stationary and another sash that can be opened and closed. In a single hung, just one sash opens and closes but in a double-hung, two sashes can be opened and closed.
Hung windows work well on tall and narrow window spaces. You can have them open at the top to provide good ventilation at the top of the room so that the breeze doesn't blow things off your table or countertops. They are also good options for kid's rooms as the opening is at the top and out of reach.
Wondering how much it cost? Read more here: How much does it cost to replace windows?
Blog post submitted by Chamber Member, Renovation Find