The Edmonton Chamber of Commerce recognizes it plays a key role in contributing to economic reconciliation. With the second highest Indigenous population in Canada, the Edmonton metro region has yet to unlock the vast potential Indigenous people can play in our economic prosperity. The Edmonton Chamber celebrates the opportunity to use its platform and connectivity to the business community to accelerate that potential. To advise us, our broader membership, the Edmonton business community along with political and community leaders, The Edmonton Chamber is pleased to announce its first Elder in Residence: Irene Morin, of Enoch Cree Nation.  
Throughout her lifetime Irene has demonstrated an indomitable spirit, resilience, and optimism. She is fiercely proud of her culture, her people and her community; she has tirelessly dedicated herself to building bridges and advancing the interests of Indigenous peoples. 
"It is an absolute privilege to have Irene join the Chamber team as our first Elder in Residence. True reconciliation takes time and learning. We are grateful for her gift of time and wisdom and will be activating in different ways to unlock the enormous potential Edmonton has in indigenous leadership, entrepreneurship, community building and more." Jeffrey Sundquist, President and CEO, Edmonton Chamber of Commerce.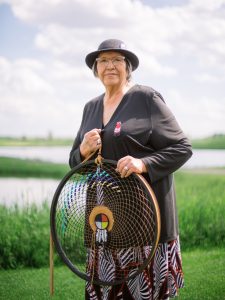 Today, Irene Morin is an elder of the Enoch Cree Nation. She is a survivor of the Blue Quills Indian Residential School in Alberta and credits the institution for providing her with an educational foundation. 
In 1970, after grassroots protests and demonstrations, Blue Quills won its fight to become the first school officially administered by Indigenous representatives. Now called University nuhelot'įne thaiyots'į nistameyimâkanak Blue Quills, the school is an example of a successful, independent Indigenous educational institution – with a mandate to "advance and protect Indigenous forms of life and thinking through teaching, research and community service, guided by the natural laws of the Cree people and grounded in the Cree language." 
Irene's extensive career included working in the 1960s for what was then the Department of Indian Affairs, and later for the Edmonton Separate School Board, Native Counselling Services of Alberta, Native Friendship Center, the Senate of Canada in Ottawa, and for the Enoch Cree Nation for nearly 30 years.  
In 2017, she received both the Queen Elizabeth II Golden Jubilee Medal and the Senate of Canada 150th Anniversary Medal. The Queen's Golden Jubilee Medal was awarded by the Governor-General of Canada to "those who have made outstanding and exemplary contributions to their communities or to Canada as a whole." The Senate 150th Medal recognized those who, "through generosity, dedication, volunteerism, and hard work, make their hometowns, communities, regions, provinces or territories a better place to live," and "outstanding individuals" whose work reflects the "values of diversity, acceptance, generosity, fairness, and equality." 
As reflected by these accolades, Irene has throughout her life led vital initiatives and enriched the lives of those in her community. 
"I can think of no better inaugural Elder‐In‐Residence than my friend Irene. Her body of work is considerable ‐ she was a powerful advocate for social justice in her work at Native Counseling Services of Alberta, and she was an effective and popular political staffer for the late, great Senator Thelma Chalifoux. Since returning home to the Enoch Cree Nation, Irene has supported the Chief and Council as a respected Elder and cherished advisor. There is no doubt in my mind that Irene will assist the Chamber in forging new and stronger relationships with Indigenous communities surrounding Edmonton, as well as connect Chamber members with Indigenous leaders, entrepreneurs and movers and shakers." Honourable Senator Patti LaBoucane-Benson
Today also marks Indigenous Peoples Day in Canada, a special opportunity to learn more about the rich and diverse culture, voices, experiences and histories of First Nations, Inuit and Metis peoples. Taking time to reflect and learn about Indigenous History and build a mutual path forward is one step the Edmonton Chamber is taking on a path to reconciliation. We're proud to announce Irene Morin as our Elder in Residence today and share more about our work with her over the coming year.