Situated in the heart of downtown Edmonton, the World Trade Centre Edmonton offers comfortable and convenient meeting rooms and conference spaces in a beautiful designated historical building.
Spacious Meeting & Board Rooms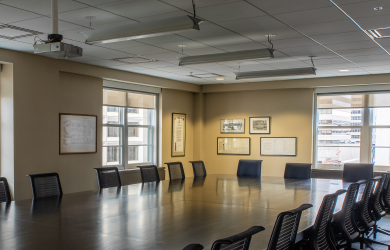 Conference Space for up to 120 Guests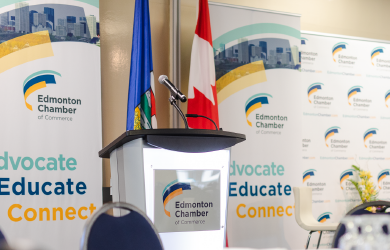 Temporary Productivity & Office Space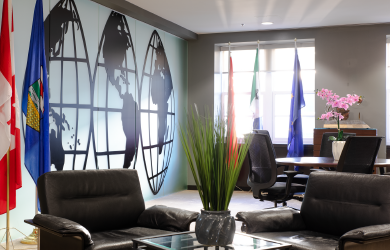 Conveniently located in the historic World Trade Centre building on Jasper Avenue, the 6th floor Conference Centre features one-stop service facilities with productivity, presentation and meeting space for up to 120 people in a friendly and professional atmosphere.
With amenities ranging from food and beverage service to teleconferencing and free wifi, we're equipped to meet the needs of your meeting or event.
As of Tuesday, March 17, our office at the World Trade Centre Edmonton will be closed to the public, and document services will not be provided onsite. We will maintain our document certification services in the current situation as best we can.
Should you need documents certified please call 780.426.4620 or email booking@edmontonchamber.com to make arrangements It is important to note that all documents MUST be notarized or have a notarized letter of waiver on file that attests to their authenticity and accuracy.
If you need to reach anyone at the Edmonton Chamber of Commerce, please leave a message at 780.426.4620 and we will pass it along to the appropriate contact.
Please allow extra time to complete this process, given the challenging situation.
Thank you for your support.
The health and safety of guests and staff is our highest priority. We aim to take all precautions and preventative measures to lessen the risk of spread of COVID-19. Our team is dedicated to upholding high standards of hygiene and cleanliness procedures. Our professional cleaning staff are qualified to use hospital-grade cleaning and disinfecting agents daily with increased attention to high touch areas.
Conference staff are certified in food handling and safety, and follow rigorous protocols for hand washing, hygiene, and personal protective equipment.
Conference facilities have been rearranged to adhere to physical distancing requirements. Prior to booking a conference space, please read the following guidelines outlining our safety protocols and guest requirements.
CAPACITY:
10 people
RATES:
Members: $100 (half day) $150 (full day)
Non-Members: $200 (half day) $400 (full day)
AMENITIES:
Refreshments, catering, audio/visual, tele-conferencing, whiteboards, microphones, Wifi
For more information on our facilities or to book: