Whether you showcase your business as an exhibitor to an excited, business-focused crowd or join us as an attendee, enjoy some casual networking while you peruse the other businesses who have set up their stalls, this mixer and tradeshow has something for everyone.
Join us in celebrating small businesses while engaging in meaningful conversations at our Mixer and Tradeshow. Small businesses inject innovation, growth, and a sense of community into our city. Making up 94 percent of the businesses in Edmonton, small business is an essential part of what makes our city great, and the Edmonton Chamber of Commerce is excited to celebrate them. This kick-off to small business week is for everyone to appreciate, connect with, and learn more about the small businesses that the Edmonton Metropolitan Region has to offer.
The Edmonton Chamber of Commerce is proud to welcome both our members and the extended business community to this highly anticipated event showcasing small business. Secure your tickets early to avoid missing out on this event!
Interested in showcasing your business to the Edmonton metropolitan business community? Purchase a booth to be part of our kick off mixer & tradeshow. Your company will get lots of exposure and you will have plenty of opportunity to network at this exciting beginning to Small Business Week. Purchase your tickets to attend here!
About Our Venue:
The Prince of Wales Armouries is located just north of the downtown core, it's unique fusion of commanding late 19th century architecture and spacious, modern facilities offers a unique and picturesque experience. Enjoy the food and fun while taking in the historical sites and emblems of the past.
Tourism is vital for the success of many economies around the world, and the Edmonton Region is no exception. As borders reopen, and travel returns, it's more important now more than ever, for tourism to rebuild in ways that drive resilience and create opportunities for small businesses to thrive.
In partnership with Explore Edmonton, we invite you to join more than 100 leaders and entrepreneurs on October 18th during BDC Small Business Week™, to discuss Why Tourism Matters to Small Businesses.
Hear from our panel of experts on
- The visitor economy in Edmonton and our differentiators as a city
- How tourism supports the development of advanced infrastructure and transportation systems
- Opportunities for tourism to rebuild in ways that drive resilience and help small businesses to thrive
Join us at the Art Gallery of Alberta on October 18th, from 4:30 – 7:00pm
Building a business can be tricky, that's why it's so important to have a community you can lean on as you figure it all out. This year, on October 19th from 4:30 PM - 6:30 PM, we're excited to help you find your community at Meet the Maker during BDC Small Business Week™!
Join us at our networking event hosted by Teresa Spinelli at the Italian Centre Shop for a chance to hear about how the Spinelli family has successfully contributed to the local eco-system for over 60 years at the 108878 95 St location.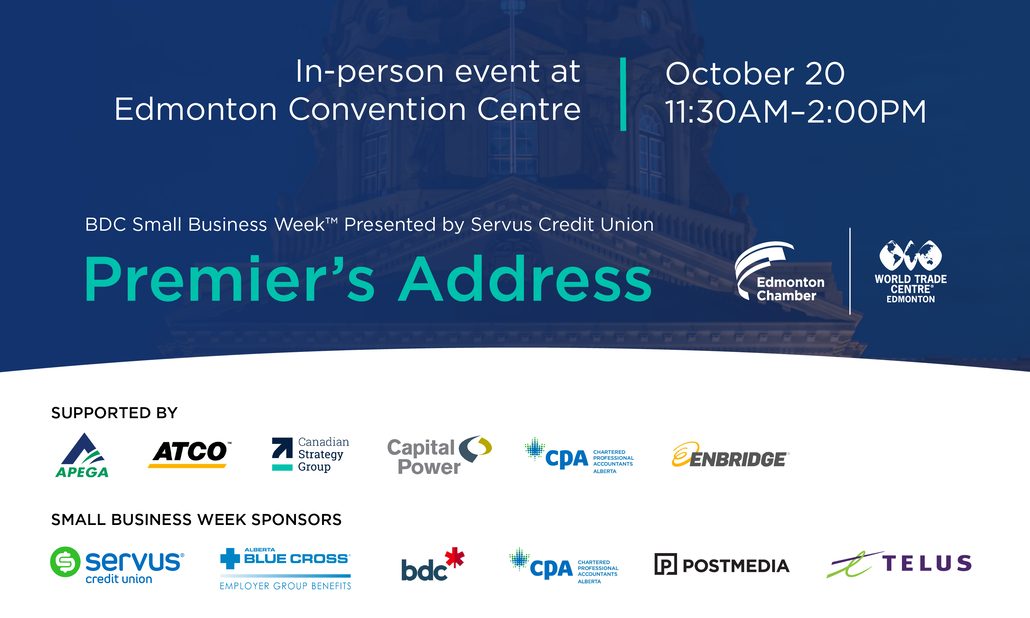 The Edmonton Chamber of Commerce offers a warm congratulations to Alberta's 19th Premier, Danielle Smith. It's our pleasure to have her speak to our members and broader business community during Small Business Week. Small and medium sized businesses (SMEs) are the lynchpin of the Canadian economy. According to Statistics Canada, there are more than 1.2 million SMEs in Canada and after the past two years of pandemic disruptions, many are struggling. In the Edmonton region, despite most business focus tending to be on oil and gas and related services, small business is undisputedly the pulse of the Edmonton economy. 
As of 2021, more than 94 per cent of businesses in Edmonton are small and medium sized enterprises. They play a huge role in generating economic impact throughout our region. They are the job creators, the vibrancy makers. SMEs are what make a city unique. They provide an experience that creates memories for residents and visitors. And ultimately, they are driving our economic success. We look forward to hearing from Premier Smith on the impact and importance SME's have in our economy.
This exclusive event has a limited capacity, and we expect tickets to sell quickly. Do not miss your opportunity to attend and reserve your seat! 
The last few years have brought a lot of change within the Public Sector in Alberta. Newly elected governments are taking shape while dealing with on-going pandemic responses, supply chain issues, global political and market challenges, natural disasters and environmental and social commitments.
All these factors are changing government policies, departmental priorities, procurement approaches, budget allocations, stakeholders and technology requirements.
Join our Selling to Government Luncheon on October 21st for an informative and interactive seminar featuring Dolan Bogus - An outreach and procurement team specialist from the Government of Canada - to gain a greater understanding of the public sectors constantly evolving priorities.