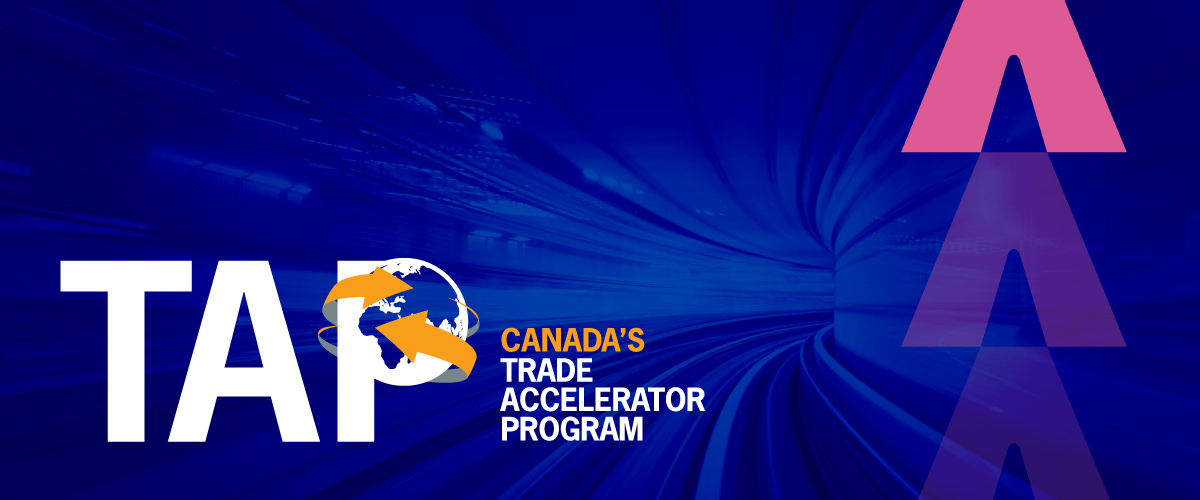 Grow Your Business Abroad with TAP
The Trade Accelerator Program, also known as TAP, is a comprehensive, hands-on workshop that provides export resources, coaching and mentorship to small and medium-sized enterprises in the Edmonton region, Northern Alberta, Yellowknife and Whitehorse. The program helps companies scale up strategically and successfully enter the global market.
TAP's first cohort launched in September 2018; since then over 70 organizations have graduated from the program. TAP Edmonton has resulted in:
60% of TAP graduates are actively exporting (compared to 7% of all Canadian companies)
71% average growth in Export Revenue
52% of TAP graduates have hired new staff dedicated to export activities
Below, we catch up with John Gerum, Trade Accelerator Program Manager, to get in-depth answers to some of the most commonly asked questions about TAP.
How does the program work?
John Gerum:
The program runs for six weeks and has four mandatory session dates. Most companies will be familiar with the first two day workshop format which provides them with the knowledge and skills required to master the core business functions they'll need to complete the export plan and enter new international markets. What participants might not understand is the export plan process. The coaching and mentoring they receive from our subject matter experts as they write and review their plan is value they will not get elsewhere.
How is TAP different from other export training courses or workshops?
John Gerum:
It's different because you don't just learn about important business functions like insurance, finance, expansion capital or supply chain management to only return to your office and file it away. TAP helps you create an actionable plan to get you exporting quickly. Typically, it would take an average company three to five years to successfully begin exporting to countries such as Japan. We have had TAP grads complete this cycle in less than 12-18 months.
Plus, the mentoring and coaching aspect sets TAP apart from other workshops or programs. For example, one of our experts from PricewaterhouseCoopers brought to attention the changes to American taxation coming into effect in October. Many participating companies were unaware of these changes. Had they gone ahead with exporting without TAP, they would be facing hundreds of thousands in tax penalties. Our experts help steer these companies through the world of export and make it easier for them.
While you will be learning, you will also be networking and building relationships with other participants in the program. We've seen companies collaborate with one another and share contacts, resources and data. It becomes an extremely supportive group who are all on a similar export journey. We have seen a great response to our alumni program which continues this collaboration and mutual support.
How much does it cost to enroll in the program?
John Gerum:
This question comes up quite frequently; the cost for the value is negligible. It is usually a $495 registration fee but for our September 2020 cohort, we are waiving all fees to support the relaunch of business including those organizations looking to pivot to new revenue streams. If you add up all the billable hours of the subject matter experts throughout the six weeks, the actual value of the program is $25,000.
The federal government and TAP partners recognize the importance of export and growing the Canadian economy and therefore have given us the resources and level of support to assist small to medium-sized enterprises accelerate their export.
Is attendance mandatory for all sessions?
John Gerum:
Yes, it is very important that you attend all four sessions and complete the export entry plan. The sessions build on each other and provide you with the information and skills required to export successfully.
What is the criteria for acceptance into the program and how can my organization apply to the program?
John Gerum:
We ask that you have at least $500,000 in annual revenues in the last two years, that you have a product or service that will have an competitive advantage in your chosen market entry region and you can dedicate two senior managers to attend and complete the program. Your organization can be already exporting or can be new to exporting to join. If you do not meet the above criteria, we would still accept applications as we have some flexibility in admitting SME's to TAP.
If you're ready to take your business to the next level, the next TAP cohort is September 15 and registration is now open; apply here. As international trade becomes more and more imperative to Edmonton's economic success, we are planning more program dates in the future.
If you have any questions regarding TAP or the application process, please do not hesitate to reach out to me directly at jgerum@edmontonchamber.com or 780.409.2128.